Well this looks to be it. The next iPod Touch with the camera in the back. This has not been a confirmed, but the source submitted the images of a tear-down to the Covino and Rich show. The source who submitted the photos gave the following info to the show.
-to show it's real. If you look at the board, it states Apple 2009 very clear. The 2nd gen AKA iPod touch out now, has 2008 on it. They haven't revised the 2008 touch. I will compare them in pic in a sec.
-BTW, these phones NEVER leave Apple and this one left but it was a durability test phone, so that's why the screen is all gridded off and cracked.
-The side by side picture is the inside of the current gen vs the 3rd gen (one coming out in September).
-I acquired this from a guy that I buy parts phones and iPods from. I believe he's a recycler in ***********, so what most likely happened is that Apple threw this away and he some how got it and sold it for parts.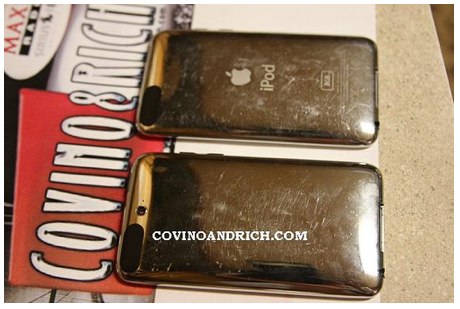 There you have it. The images certainly look like the cases we have been seeing. We should know in the next month or so if this is the final form factor or if this person has a very rare prototype.