The belt; it's an interesting device. A simple strap, usually made of leather, that is a utilitarian tool used to securely hold up ones pants. As the years have gone by, instead of making pants fit for everyone we still use belts. So accepted has the notion of not wearing the right size garment come to be that we now have thousands upon thousands of belts. Our belts are fashion accessories to our vast wardrobes. Our pockets are so full of other goodies that many times it is no longer feasible to hold our more valuable communication devices in them. Instead, we move them to a much safer and secure place, our belts.
The U-Hip Pop case from Uniea is the iPhone protection designed specifically for your belt, or whatever else you choose to clip it to. Uniea is a new company to me. Prior to being contacted by them for iPhone case reviews, I had not heard of them or known about their products. Today they have been brought close to the front of the pack amongst cases we see here regularly. Uniea offers many different iPhone case styles. Some of the cases are my preferred type, and some are not. Either way, they have a case style for every need.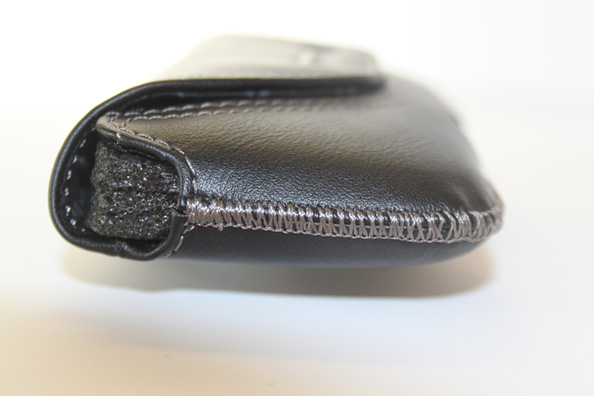 I must admit; the right hand pants pocket is my place of choice for the iPhone (or any phone for that matter). I am not generally a fan of the hip case/belt clip. I expected this review to be somewhat painful as I like to use a case for a full day or two as my main case before passing judgment. So, I gave the pants pocket a break and reverted to the Uniea U-Hip Pop case.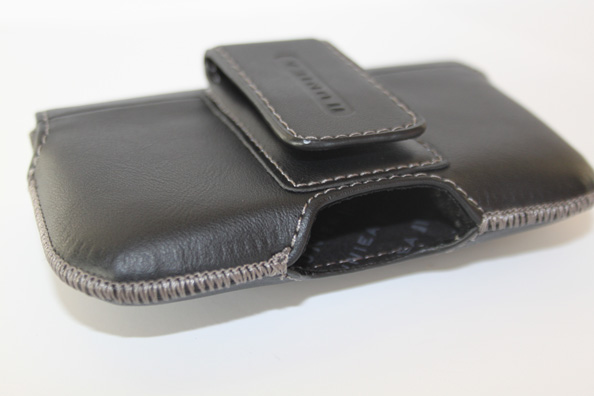 The overall design and feel of the case turned out to be very nice. Never did it feel flimsy or in danger of spilling out my iPhone. The whole of the case is wrapped in black leather, and stitching is tight and very neatly placed. Never did I encounter any loose stick or failing of material. I believe the back clip is made of metal, although I have no way to confirm this. Never did the clip feel stressed to me (like it was going to let go of my belt), even with the most extraneous motions.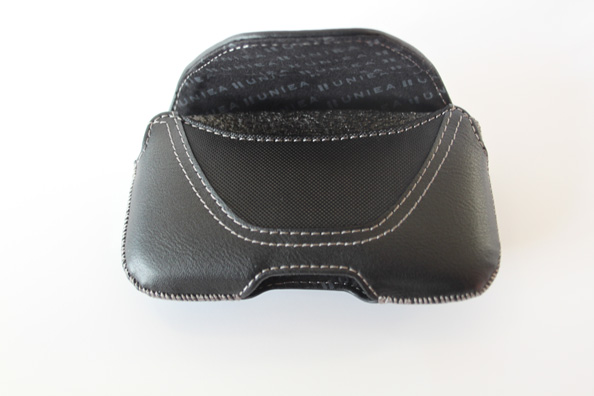 The case is also very slim compared to others I have used, and very protective. The back of the case is reinforced with hard plastic. The front clasp is magnetic and easy to open, yet holds securely when in place. The bottom of the case has an empty spot about the width of two fingers that allows you to push the phone out of the case when needed; a very clever bit of design. The inner material is soft and velvety feeling, but I could not say exactly what said material is. I do know from hands-on experience that the inner material will not scratch the phone.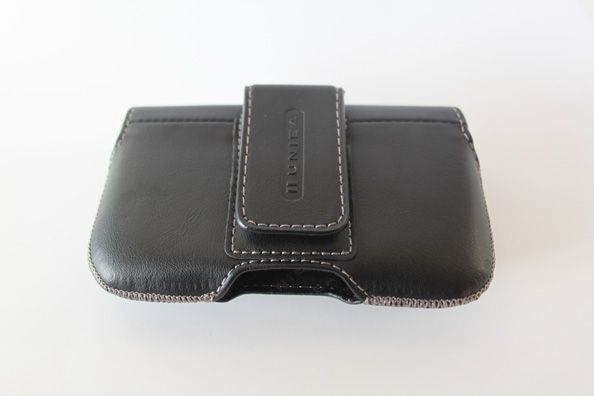 We have seen cases from many different manufacturers, and time and time again what they offer is exactly the same as the other guy. With the Uniea U-Hip Pop case we see something unique, well constructed, and very fitting for those looking for a belt-clip style case. In my review of this case I could not find one flaw when it came to design, quality, and usability. I highly recommend you check them out when looking for your first or next case.
Check out our quick video overview below:
[Uniea Cases] Get 10% off your purchase. Use Promo Code: AaronZ-Uniea