Apparently the need for Alarm Clock iPod and iPhone docks is great.  iHome has unveiled a set of three very sleek iPhone docks that will also wake you or time your food preparation.  The iP39 Kitchen Time and FM Alarm Clock Radio Speaker System (its full name), is designed to be in your kitchen and stay out of the way with its retractable dock.
 The iP90 Clock Radio/Audio System is a modern take on the original iHome iPod docks that started their brand.  Aside from being a normal clock and radio the iP90 has a sync button on it that allows for syncing of the iPhone and iP90's time.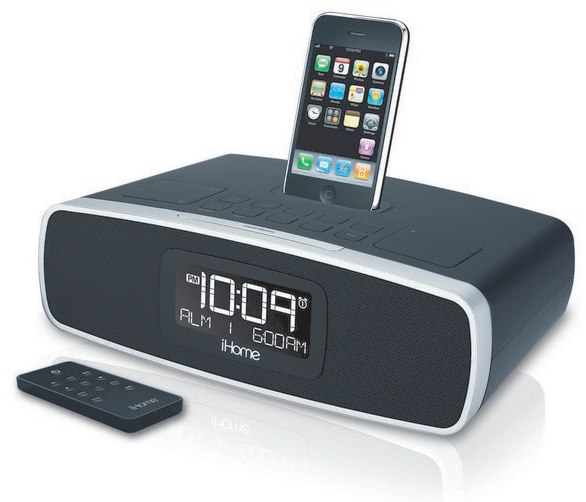 Finally the iP42 Dual Alarm Clock Radio brings the convenience of a dock and alarm clock, but in a smaller more portable package.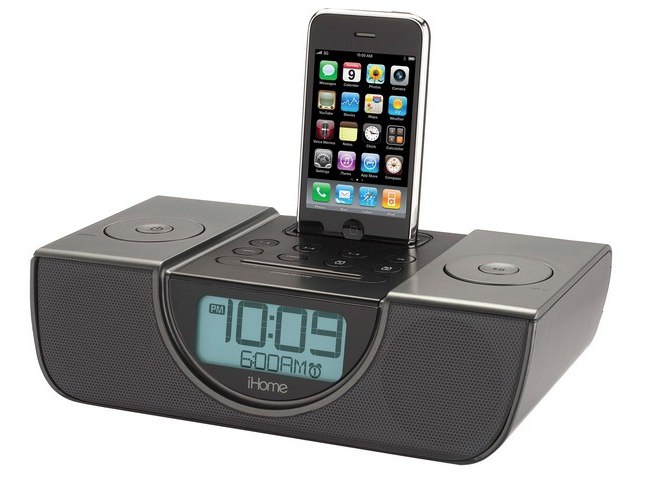 THERE'S ALWAYS ROOM FOR iHOME'S NEW LINE
OF HOME SPEAKER SOLUTIONS
Newest Additions to Product Line Feature Solutions for Every Room in the House
RAHWAY, N.J., January 6, 2010 – From high-tech kitchens to cozy guest rooms, iHome is debuting a smart new line of speaker solutions for every room in the house during CES 2010.  The three new iPhone/iPod docking systems include the iP39 Kitchen Clock Radio, iP90 Clock Radio Audio System, and the iP42 FM Clock Radio. 
§         iP39 Kitchen Timer and FM Alarm Clock Radio Speaker System for iPod/iPhone with USB Charging:  winner of the 2010 CES Innovations Award for the category of Home Appliances, the iP39 is the perfect companion for those that need added functionality in the kitchen.  Designed with the look and feel of a premium kitchen appliance with stainless steel accents, easy to clean button membrane and a retractable docking station, the iP39 is both an alarm clock radio and dual bake timer that gives users a place to dock, charge and play music from their iPhone or iPod.
§         iP90 Clock Radio/Audio System for iPod/iPhone:  The flagship alarm clock radio that started it all at iHome gets a facelift in 2010.  With a completely redesigned sleek new cabinet and new time sync button, which automatically syncs the iHome to the iPhone time, the iP90 continues to deliver quality sound via Reson8 stereo speakers and builds upon all the great features that users love and expect from this award winning model, will maintaining the $99 price point that has made it a best-seller year after year.
§         iP42 Dual Alarm Clock Radio for iPod/iPhone:  Small yet robust, the new iP42 is a feature rich alarm clock within a space-saving design.  With its two independent alarm functions, Reson8 stereo speakers for deeper bass and time sync button, the iP42 is the perfect alarm clock radio for the iPod/iPhone owner that is tight on space.
"iPhone and iPod owners use their devices any time and any where, so we have developed a lineup of new docking systems that can be used in every room of the house," said Evan Stein, vice president of Marketing, iHome.  "From space savers like the iP42 to the space-age, stainless steel features of the iP39, each unit is designed to easily blend into its surroundings and provide users with a solution for all their docking, charging and listening needs."